The Best Diet 2012 - Find out the Fat Burning Secret Here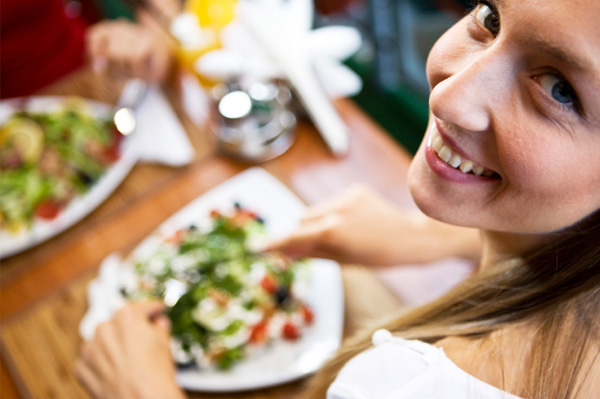 As I searched restaurants in Long Beach on Yelp!, it displayed 10 options out of 670 and I argue that while how many stars a business has may help your decision on where to go out of ease, the reviews - in no way - directly help you take on the hard task of losing body fat. Knowing how and what to order, no matter where you decide to grub, makes your road to health success less troublesome.
In this article, you'll have some fresh ideas on what you can do to stay on course with fat-loss and not have to sacrifice the social, fun experience that is dining out.
It takes 20 minutes for the hormone leptin to act on receptors on the hypothalamus to communicate that you have eaten. This scientific fact has been the basis for advising the obese to slow down as they eat.
To put a different perspective on this issue, who made up the rule that you have to wait to arrive at the restaurant before you eat? Eating a small snack 30 minutes before you arrive at the restaurant helps to satiate and eat less.
As an example, one pear and one string cheese would only be 161 total calories and provide 7 grams of dietary fiber -- and leave it to leptin to stimulate your feeling of fullness by the time you arrive.
Peer pressure is something that should always be considered in this situation. Here you are, sitting at a steakhouse, and one of your friends has done what you didn't plan to do: he ordered chicken fettuccini alfredo -- and the double scotch.
The nerve! As the table goes round and you're the last to order, you have to be the hero and make everyone else feel guilty. Who says ladies first? When you're dieting to lose body fat and deal with the aspect of a busy schedule, inevitable meetings over lunch, and different values on health and fitness, you must do what you have to do in order to maintain your health.
So take the lead and order first to set the tone for the whole table. It is far better to strategically order first and put the pressure on others than it is to put the more pressure on yourself.
Just as there is a proper way of ordering one's exercises -- such as putting the bicept curl after the dumbbell row -- there is an appropriate order to eating as well. Try ordering a broth based soup before ordering anything else.
According to EatingWell, "people who started lunch with vegetable soup ended up eating 20 percent less than those who skipped the soup."
The reason for this is because when water in the form of broth (i.e. sodium) is added to food, the body can't empty the liquid portion as fast from the gut as when compared to the ability of the body to empty liquid fast when drinking water in isolation before a meal.
If you still find yourself hungry after you have eaten your pre-restaurant meal and soup, split a protein rich appetizer such as grilled chicken skewers or quinoa with the table.
CREDIT: SOURCE
There are no comments yet